Disclaimer Template Generator
Many bloggers and website owners around the Internet get paid for their content, so their opinion or articles could have a slight bias.
A disclosure policy lets your readers know exactly how you are compensated and how that affects your articles and services. This makes your readers more comfortable with the content you provide. You need a disclaimer on your website to reduce your significant legal risks, as well. You need a disclaimer so as to be able to at least have some claim to a defense. With these in mind, you have to construct a disclaimer that you can use to defend yourself and your business.
We might be able to help with that. All you have to do is fill the spaces below and in just a few minutes, you will receive an email with an attach file containing your own disclaimer for your business.
Looking for an EULA Template? Check out EULA Template.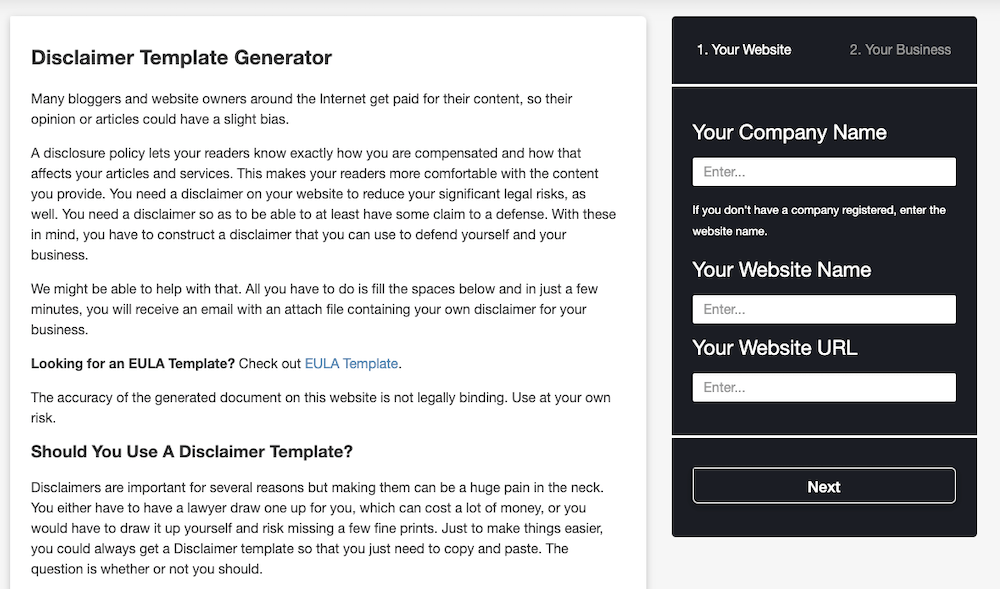 The accuracy of the generated document on this website is not legally binding. Use at your own risk.
Should You Use A Disclaimer Template?
Disclaimers are important for several reasons but making them can be a huge pain in the neck. You either have to have a lawyer draw one up for you, which can cost a lot of money, or you would have to draw it up yourself and risk missing a few fine prints. Just to make things easier, you could always get a Disclaimer template so that you just need to copy and paste. The question is whether or not you should.
What Is A Disclaimer Template?
Just as it says, a Disclaimer Template is a ready-made framework of a disclaimer that pretty much covers all the standard aspects related to these issues. Most disclaimers can be pretty cut and dry, and there's no need to change anything other than the name of the website, company, named parties, and so on.
It's important to note that most templates cast a rather wide net, so it might even deal with issues that your website has nothing to do with. That's why it's highly recommended to look into that before using a template.
Why Use A Disclaimer Template?
Simply by virtue of its nature, a Disclaimer Template might already seem like an appealing prospect since it removes a lot of the pressure from the issue that you would have had to deal with. This is true, but there are also other matters to take into consideration when using templates. For one thing, there's no need to pay for a hefty legal fee that a lawyer might have required. For another, it requires very little work to apply.
More than anything else, however, it's the fact that you appear to be a legitimate website when you actually have a disclaimer on your website, even when using just a template. It's the appearance that counts, at least in this context.
Why Use A Disclaimer?
Then again, you might be wondering if you even need a Disclaimer Template or a disclaimer in general for your website. For that, the answer depends on your intentions and actions with the website. If you are selling products and services, of course you need the disclaimer. It protects you against potential legal action that could arise from the absence of one, which could then be interpreted as negligence on your part.
If you are just running a blog and filling it with your own views, political agenda, opinions, and general nonsense, a disclaimer becomes less necessary. Once you start holding a position of significance, however, this might change.
Preview Your Disclaimer
Disclaimer for
Company Name
We are doing our best to prepare the content of this site. However, for Company Name cannot warranty the expressions and suggestions of the contents, as well as its accuracy. In addition, to the extent permitted by the law, for Company Name shall not be responsible for any losses and/or damages due to the usage of the information on our website.
The links contained on our website may lead to external sites, which are provided for convenience only. Any information or statements that appeared in these sites are not sponsored, endorsed, or otherwise approved by for Company Name. For these external sites, for Company Name cannot be held liable for the availability of, or the content located on or through it. Plus, any losses or damages occurred from using these contents or the internet generally.