Investment Disclaimers
No matter how many expert tips you get, investing your money into anything -- whether it's stocks, bonds, mutual funds, or a startup company -- is risky. That's why investment disclaimers are so important.
Sometimes called "risk warnings," investment disclaimers aren't just meaningless legal jargon buried in the fine print of your website or in some brochure you hand out that no one actually bothers to read. Instead, they provide specific rights and information to both buyers and sellers.
What exactly is an investment disclaimer?
Let's start by talking about a disclaimer in general. No matter where it's used, a disclaimer is a formal written statement that you're not taking responsibility for specific things. It's a way to limit (or eliminate) your risk of legal liability.
For example, if you head to the gym and see a sign that says "Use fitness equipment at your own risk," that's a disclaimer. The owner of that gym is telling you that if something happens to you while you're using the equipment, the gym isn't responsible for it. So if you drop a dumbbell on your foot and break it, the gym isn't going to pay for your medical bills. And if you try to sue them, the gym owners will say that you saw the sign -- their disclaimer -- and chose to workout there anyway.
In the investment world, disclaimers come in all sorts of shapes and sizes. They typically all have the same purpose, though -- to tell people that investing is risky and if they choose to do it, they're on their own if something goes wrong.
Take a look at the disclaimer that Silver Barter uses:

Silver Barter is a website that publishes advice about using silver as money. While the website contains all kinds of newsworthy developments in the silver coin world, Silver Barter has a very strong warning for its readers. Right at the beginning of their disclaimer, they make it clear that they're not "a registered investment, legal or tax advisor or a broker/dealer." Instead, the information they provide is based on what the owner of the site has personally experienced.
Bottom line -- if you decide to run out, convert all of your paper money to silver coins and start investing all over the place, it's not Silver Barter's fault if you end up losing all of your money. After all, they told you exactly where their information comes from AND that they're not formal experts on the subject.
Over on Stockopedia there's an entire page of investment disclaimers. Right at the very top, you'll see this:

Simply put, you shouldn't rely solely on their information to make big investment decisions. To be safe, you should go out and research the subjects on your own in order to make a truly educated decision.
In addition to the "do your own research" disclaimer, there's another common disclaimer out there -- the one that mentions past performance and future results.
In the US, the Securities and Exchange Commission (SEC) requires that mutual funds include a very specific disclaimer whenever they give information to potential investors. In SEC Rule 156, you'll see that all of their correspondence has to include the statement, "A fund's past performance does not necessarily predict future results."
In other words, just because a mutual fund saw amazing gains last year doesn't mean it will make those same gains this year. As the SEC points out, it's very common for a mutual fund to grow by leaps and bounds one year and then follow up with an average or even below-average year.
But there are plenty of people out there who use this disclaimer even though they're not required to by law.
For example, Personal Capital is a free software platform that allows you to access all of your investment portfolios in one place and, if you want, get advice from their experts. Here's the disclaimer they have on their website:

But that's not the only thing the SEC does.
Thanks to the Investment Advisers Act of 1940 (IAA), the SEC has the power to regulate and monitor advisors. Under the terms of the IAA, whether or not someone is officially considered an advisor depends on:
The type of advice being offered
The way the advisor is being compensated for his advice
The percentage of the advisor's total income that comes from giving investment advice
Typically, people only have to register if they are advising for more than $100 million in assets, or if they advise a company that's registered with the SEC. If you meet this criteria, you are required by law to register.
Some investment disclaimers offer specific details about the advisor's registration status. Take a look at what Harrington Investments did:

This firm makes it clear that their advisors are only registered in certain states, and if you don't live in one of those states, there's no guarantee that their advice will be completely legal in the state you live in.
What makes a great Investment Disclaimer?
First and foremost, a solid investment disclaimer is easy to understand.
While you may be a financial expert who's familiar with all of the industry jargon, your readers and clients likely aren't. If your disclaimer isn't written in plain English, no one may know what you're actually disclaiming!
Check out the disclaimer that Melyssa Griffin uses on her website: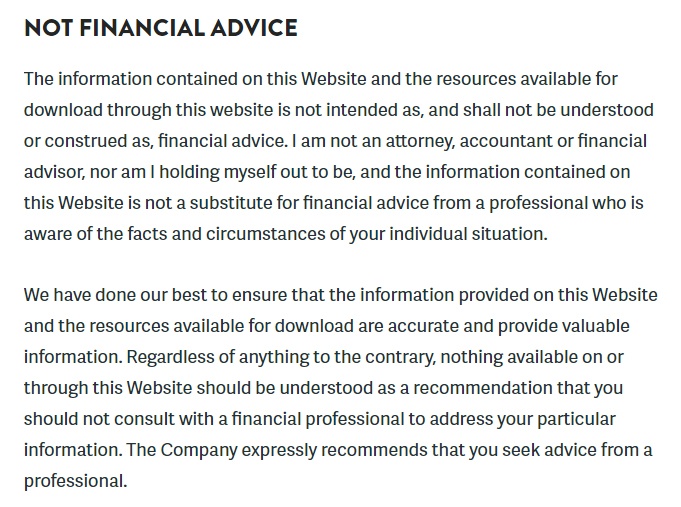 Melyssa does a great job of skipping the legalese and getting straight to the point. You don't need to be a legal or financial expert to understand what she's saying. Plus, she comes right out and says, "I accept no liability whatsoever for any loss or damage you may incur."
Every disclaimer is designed to eliminate liability, but she makes certain that her readers understand that she's not responsible for anything you choose to do after reading her information. From top to bottom, this investment disclaimer couldn't be more clear.
It's also important to be as specific as possible.
Otherwise, people may think there's less or more risk than there really is. For example, look at the example that Investopedia found: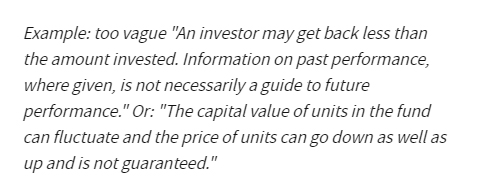 OK, so the price can go up and down, and nothing is guaranteed. But how much can things fluctuate? Are we talking about a few percentage points here and there? Or is it possible that a fluctuation can wipe out half of your money? When people come away with questions like these, it means your investment disclaimer isn't working the way it should be.
While you're not expected to have a crystal ball, you should be as specific with the numbers as you can. For example, if you know that it's entirely possible that your client will lose 15% of his investment in a fluctuation, put that number in your disclaimer. That way, everyone is on the same page.
This disclaimer from The Steady Trader doesn't use any specific numbers, but it's easy to tell that this is a very, very risky investment:

Seeing that "you may sustain a total loss greater than the amount you deposited" is a big deal. Not only could you be completely wiped out, you could wind up in the red. If this disclaimer wasn't so specific, people may move forward with their investments without knowing that there's a chance they could lose everything -- and then some!
It's also very important to point out that you may be an expert -- but you're not EVERYONE'S expert.
Lawyers use this kind of disclaimer all the time. Look at what Jones Day did:

Basically, they're saying that yes, they're lawyers. However, they're not YOUR lawyers. Reading their advice doesn't make you a client, and it doesn't create any kind of attorney-client privilege.
An example of how this disclaimer works in the investment world.
This disclaimer makes it clear that the experts at JPMorgan Chase are not offering you tax, legal, or accounting advice. You should have your own professionals so that you can talk about the specifics of your investments.
You also need to keep social media in mind.
Just because social media sites tend to be way more informal than the "real world" doesn't mean that you can skimp on disclaimers every time you log onto Facebook or Twitter. If you're promoting your financial advice services, include the hashtag "#ad" into your post. You should also place disclaimers somewhere on your profile.
If you're dealing with a social media site that doesn't give you enough room for a disclaimer, create a short link to it and have the full disclaimer posted on another part of your profile.
Whether you're a blogger who likes talking about investments, a private advisor who gives clients stock tips or an author who's writing a book about mutual funds, it's important to have a carefully crafted investment disclaimer in place. Without it -- or without a good one -- you could be opening yourself up to unnecessary legal liability.